Mise En Scene and Riot declared for Curragh this weekend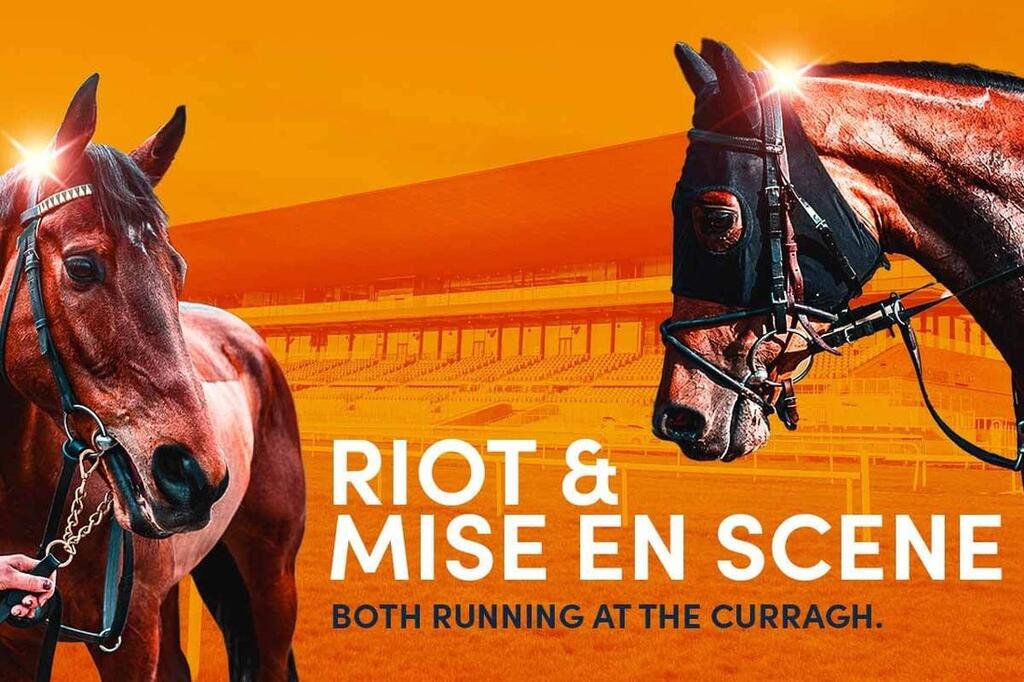 RacehorseClub are heading to the home of Irish racing at the Curragh this Sunday. Mise En Scene and Riot are booked to run in consecutive races on the same card. It will make for a thrilling afternoon for members enjoying the atmosphere in the Paddock with the unprecedented chance to spend time with two of our top trainers at the same event. It's not too late for you to be there, if you are a shareholder of Mise En Scene or Riot you can email Laurie, info@racehorseclub.com, to enter the ballot. You still have time to buy a share and enter too as the deadline for entry is tomorrow morning at 10am.
Mise En Scene at the Curragh, Irish 1000 Guineas (Group 1)
Mise En Scene is set to make her seasonal reappearance in the Tattersalls Irish 1000 Guineas (Group 1) at 3.45pm and looks to have a live chance of classic race glory. Currently a best price 10/1 shot with the bookmakers for the €285,000 first prize to be shown live on ITV4 and Racing TV. Tom Lunn at Talksport picks her out as his tip, on the basis of strong performances in high quality races.
Mise En Scene missed her intended run in the QIPCO 1000 Guineas at Newmarket three weeks ago due to a temperature the morning of the race. Since that minor setback her trainer James Ferguson has been bullish about her training and is looking forward to Sunday.
James Ferguson said;
"Mise En Scene's in great shape. She left this morning for the Curragh and I'm really happy with her. She did a nice blow out yesterday just up the hill to open her lungs a little bit. She's got a long journey today but has a day off tomorrow to recuperate and get over it, she'll just have a lead out tomorrow. I think she's in really good order, everything she's done in the last two weeks has pleased me so obviously it's very exciting. We're going over and competing in a very tough race. We're drawn 1 of 14 which gives us plenty of options as to the right side of the track to be on. I can visage them running just off the rail and then with a bit of ease in the ground they'll probably edge towards the stand side, so we've got plenty of opportunities whether we want to go forwards or potentially get some cover.
Thinking of all the positives, I think the Curragh will suit better than Newmarket. It's got a bit of an uphill finish and they've had a bit of rain. We'd have liked to have run in the QIPCO 1000 Guineas at Newmarket, but she had a temperature. In the morning she looked a bit quiet and then two days later she was bright as a button. It was unfortunate however these things happen, and the decision was made in the best interest of the horse. Her form last season is rock solid, having only finished a short head behind Cachet in the bet365 Fillies' Mile last October.
As we know Cachet went on to win the QIPCO 1000 Guineas and then a narrow defeat last weekend in the French 1000 Guineas. If you look back at the Fillies' Mile, she's making up ground late. She also beat Prosperous Voyage at Goodwood on her second start last season, who went on to finish second in the QIPCO 1000 Guineas, so on the bare form you'd have to be hopeful.
We'll probably be having the discussion after this race as to whether we keep her at a mile or step her up to a mile and a quarter. It appears she's quick enough for a mile, but she'd have no problem getting ten furlongs. For a race like this, you almost want to be able to stay a bit to get that mile. She's very versatile as to ground. She's got plenty of speed. But it's a long year ahead and you've got to remember that she hasn't had a run this year yet. Wishing you all the best and hopefully a very exciting weekend."
Riot at Curragh, Habitat Premier Handicap
We are looking forward to Riot establishing himself as the hugely talented horse we know him to be. So we have runners in consecutive races, one of which is a classic, both of which give RacehorseClub members an excellent chance of making it to the Winners Circle. It could be a massive 40 minutes for everyone. This is the Club living up to the ambitions it sets for itself. To be there in the thick of it on horse racing's biggest days.
The Johnny Murtagh trained, Riot runs in the very next race at 4.20pm, the Irish Stallion Farms EBF 'Habitat' Premier Handicap. The feeling was, after his last run, that he didn't benefit from the hood. Expect to see it removed when he reaches the stalls this time.
Riot runs in the Irish Stallion Farms EBF 'Habitat' Premier Handicap with a first prize of €29,500. Riot who drops back to six furlongs on Sunday looks to have a competitive chance if he can bounce back to his best. Things didn't go his way at Cork on his previous run but the plan is for him to run a big race on Sunday before heading to Royal Ascot where he finished third last year. Shane Kelly has been booked to ride once again and is drawn in stall 8 of the 18 runners.
Johnny Murtagh said;
"I've left the hood off him this time round as I think the last time with the hood on, we dropped him in, and he was too relaxed and never really got into the race. The front runners had a huge advantage. I think he's got a good draw in stall eight on Sunday. We'll try and jump out and be a bit more forward and positive than we have been on him. He's very fresh, he's very well and if he produces his best he will be there or thereabouts in a race like this. Hopefully he puts up a good performance and I'm looking forward to seeing many RacehorseClub members at the Curragh."
Spanish international footballer and RacehorseClub member Alvaro Odriozola said;
"I just want to wish the very best of luck to my fellow RacehorseClub owners, to Cieren Fallon, James Ferguson and to the filly Mise En Scene. The very best of luck in the 1000 Guineas on Sunday, hope she can win and hope you all can have a really good time."