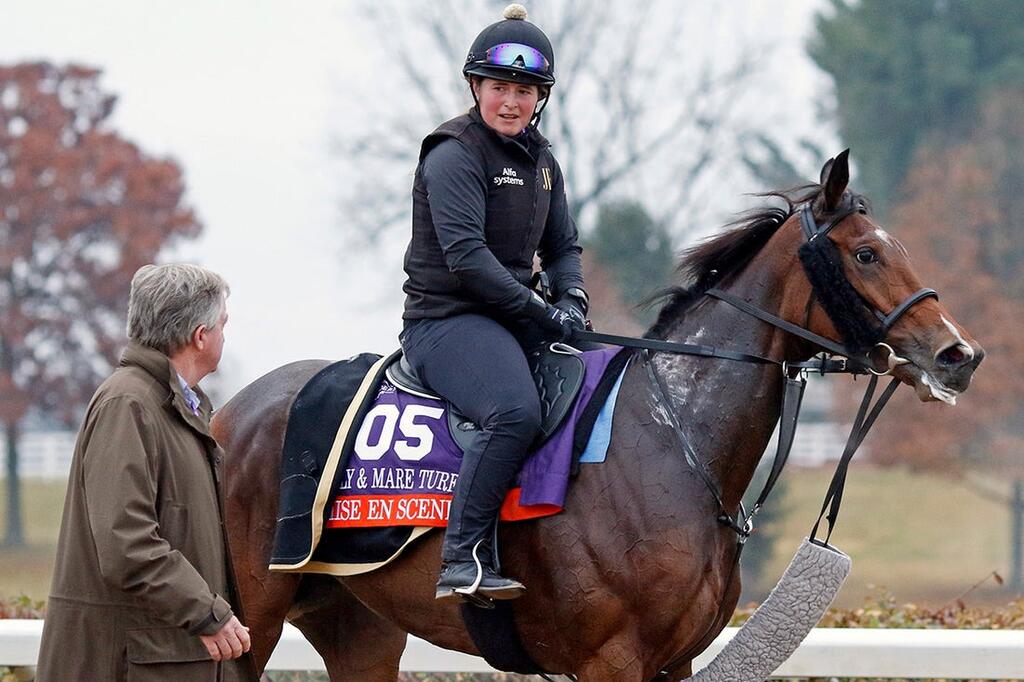 Sending Mise En Scene racing in America turned out to be a fantastic choice. She gave us a superb performance at the Breeders Cup. In this highly competitive field she produced a terrific run and comes out with great credit. America will now be her home for a while as it will offer opportunities to continue her development during the British close season. She will now be aimed at the American Oaks at Santa Anita on 26th December, a race worth $300,000.
Challenging UK flat season
We had a challenging season where a setback slowed her progress after running in the Irish 1000 Guineas. Consequently, we arrived towards the end of the season still uncertain about what might be her preferred distance. She ran with great credit over 1m 2f at Yarmouth in September eventually losing by less than a nostril on the line. Frustratingly, a stride either side of the line had her in front. Ceiren Fallon suggested she might like a slightly longer trip. The decision was an entry into the QIPCO British Champions Fillies & Mares Stakes (Group 1) in mid October. The race was for a maximum of 14 runners, which for many years had not filled and unfortunately for Mise En Scene she was balloted out due to there being 16 entries.
Breeders' Cup Filly & Mare Turf (Grade 1)
Rather than find another UK race, James Ferguson took the choice to send her fresh to America. An entry into the Breeders Cup Filly & Mare Turf followed. A major event in the American and world racing calendar this event moves from course to course each year and the distance varies slightly according to the location. This year was to be at Keeneland in Kentucky and run over 1m 1.5f.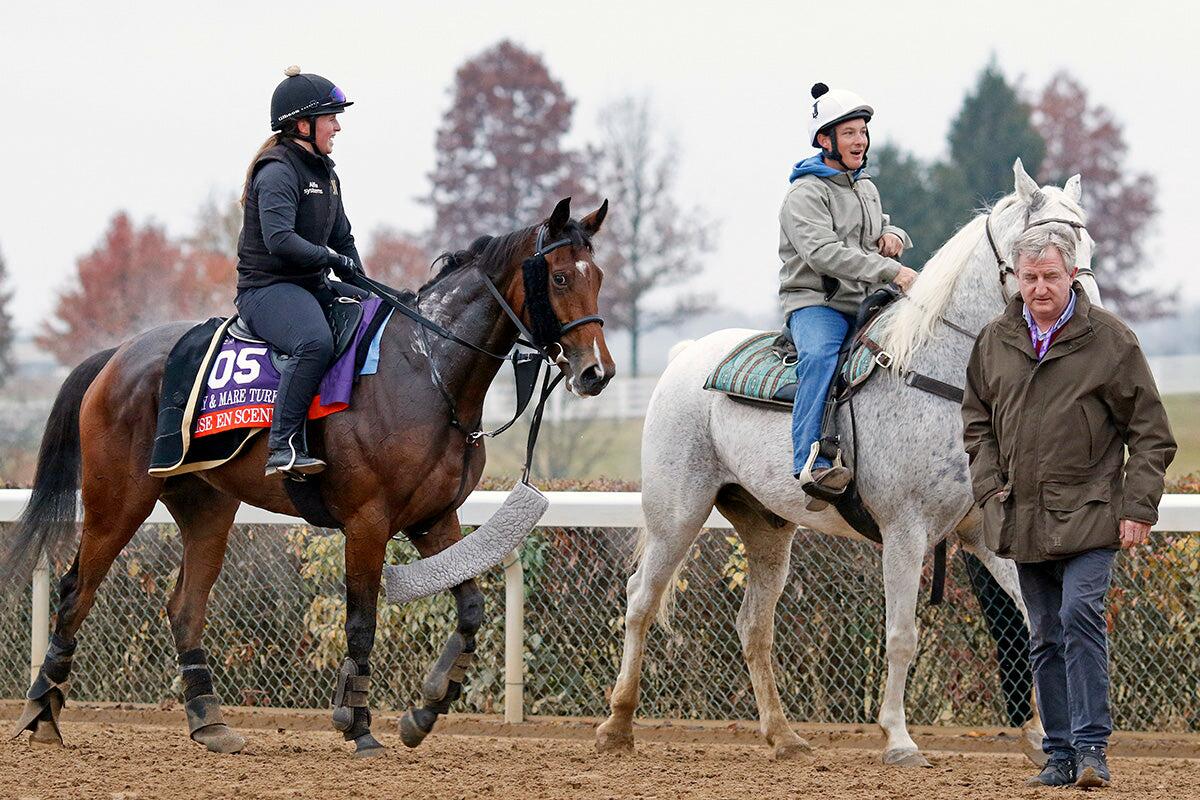 Mise En Scene in America after 36 hours quarantine
Mise En Scene took her place on the plane at Stansted with the other European entries for the journey to America. Landing in Louisville for the one hour horsebox trip to Keeneland she arrived in good nick. Once there, all European horses were required to spend 36 hours in quarantine. Positively, by the time Mise En Scene was in America early scratchings had guaranteed her place at the start.
Groom and work rider, Katie Webb, provided a great update after taking Mise En Scene out "for a nice long jog" following quarantine. She told us that she ate well and could not have been any more settled.
An encouraging draw
The draw in her previous American run gave her no chance. So we were delighted to see her drawn centrally in stall 6. That central draw undoubtedly confirmed James' decision to use cheekpieces on her for the first time.
She would run a thrilling race vindicating the decision to take Mise En Scene to America. Bursting out of her stall and taking up a strong position from the gate. She held her position well throughout and was running strongly towards the end. Finishing just a couple of lengths behind the excellent Nashwa and only six behind the winner. She just didn't have the finishing kick over the last couple of furlongs. Another indicator that a slightly longer trip would suit.
Mise En Scene's jockey in America, Cieren Fallon
"Very happy, she ran a brilliant race, she was nice and relaxed there, she jumped really well and got into a nice position. It was a strong gallop throughout sitting comfortably. She travelled much better than she does back home, turning for home she actually picked up but for the last furlong and a half she didn't have the gears to go with them but overall a super run."
Mise En Scene trainer, James Ferguson
"A really pleasing run from Mise En Scene, she broke well and I think Cieren gave her a lovely ride. She got into a lovely position and she seemed to travel nicely, she got round the bends well enough, I think she put up a brilliant performance.
She didn't quite have the gears to quicken as quickly as the winner. The winner is a seriously good filly and we've only been beaten a couple of lengths behind Nashwa who is a two times Group One winner.
I think over a mile and half around two bends she will be top class and although I'm sad to see her leave my yard, I'm looking forward to seeing her career progress. She's been a superstar for us and I know we've had to be patient this year but it's now paying off.
To summarise, delighted with the run and that's the sort of run I always thought she was capable of. To run like that in a Breeders' Cup is an incredible performance. Thank you all for your support this year."
Mise En Scene to stay on in America
She will now join the stable of Brendan Walsh to continue her American adventure. Friend of the Club Brendan gave us our first American win before unfortunately losing The Lir Jet to injury. We wish him well.
We would like to take this opportunity to thank James Ferguson and his brilliant team. They hosted a great day for our members at his old yard while nurtering Mise En Scene through all her challenges. Her performance in the Breeders Cup does them great credit. All the best to him and his whole team as they settle in at the new home at Kremlin Cottage.