Mise En Scene wins in Saratoga for RacehorseClub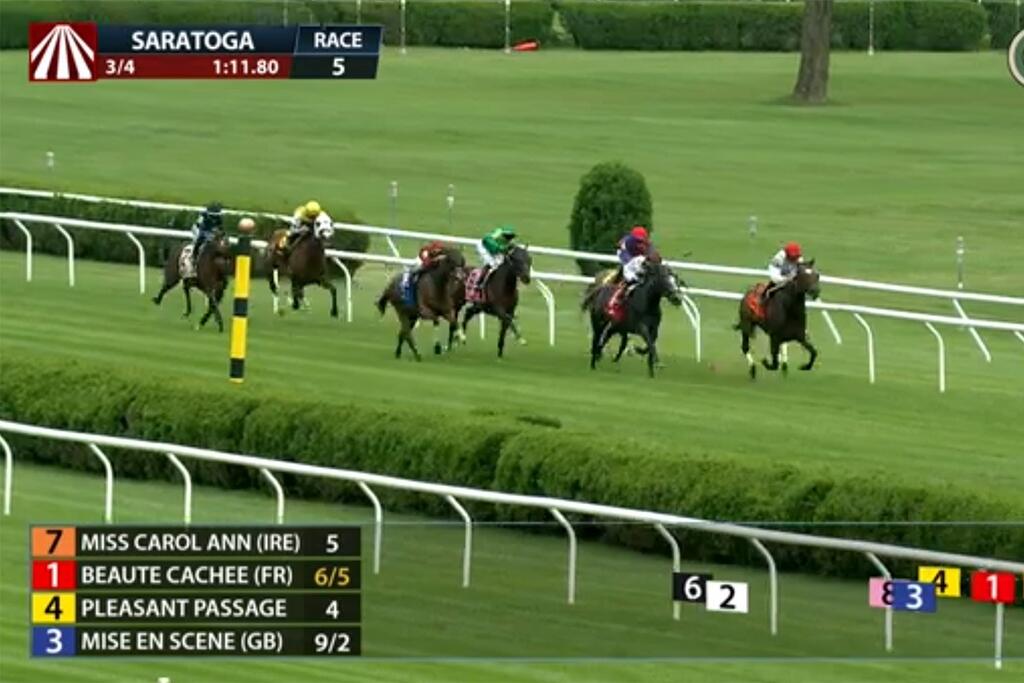 In a spectacle of speed, skill, and determination, RacehorseClub's prized filly, Mise En Scene, galloped her way to a resounding victory at Saratoga on Thursday. The electrifying race saw Mise En Scene finish 1st out of 7, leaving her trainer, Brendan Walsh, and jockey, Tyler Gaffalione, brimming with pride and excitement.
Congratulations to Brendan Walsh
Trainer Brendan Walsh couldn't contain his elation at seeing Mise En Scene back in the winner's enclosure at Saratoga. The carefully planned inclusion of blinkers had a profound impact on her performance, sharpening her focus and elevating her racing prowess. From the moment the gates opened, Mise En Scene displayed remarkable form, traveling with grace and poise throughout the race. As they approached the stretch, Walsh's anticipation grew, as he believed his star filly had the capacity to outperform her rivals. And she did not disappoint. With each stride, Mise En Scene demonstrated her relentless spirit, gradually overtaking her competitors and leaving them in her dust. Crossing the finish line, she surged further ahead, leaving no doubt about her dominance on the track. Walsh commended jockey Tyler Gaffalione for his masterful ride, complementing his strategic decisions and perfect synchronisation with the horse. He firmly believed that this victory would instil newfound confidence in Mise En Scene, propelling her towards even greater achievements in the future. Walsh also extended his gratitude to the members of RacehorseClub for their unwavering support and congratulated them on this momentous win.
"It was great to get Mise En Scene back into the winners enclosure at Saratoga. I thought the blinkers sharpened her up a good bit and she travelled very well throughout the race. All the way up the stretch I thought she was going to gradually pick them off which she did quite nicely. Going past the line she was only going further clear. Tyler gave her a great ride and I'm sure this will give Mise En Scene a lot of confidence going forwards. We'll see how she comes out of the race, give her time to recover and then make a plan going forwards. Many congratulations to her members and thank you for your continued support."
Brendan Walsh
Tyler Gaffalione delighted with Mise En Scene's performance
Jockey Tyler Gaffalione echoed the trainer's sentiments, expressing his delight at Mise En Scene's remarkable attitude and performance. The filly's journey to this triumphant moment hadn't been without its challenges, making the victory even more well-deserved and rewarding. Gaffalione had unwavering faith in Mise En Scene's potential to secure the win as they approached the stretch. The blinkers proved to be a crucial factor in her success, enhancing her focus and determination to claim victory. Looking ahead, the jockey was confident that Mise En Scene had an abundance of wins waiting for her on the horizon, a testament to her extraordinary talent and potential.
"I'm really pleased with Mise En Scene. She showed a very good attitude and stuck her neck out. She hasn't had the best of luck recently so she really deserved that win. I always felt she was going to win turning into the stretch. The blinkers helped her and I'm sure she has a lot more wins in her to come."
Tyler Gaffalione
Meticulous planning and dedication
The victory at Saratoga holds significant meaning for Mise En Scene's racing career and her journey with RacehorseClub. As one of the most celebrated horses in the club, her performance serves as a source of inspiration for our members. The win exemplifies the remarkable partnership between Mise En Scene, her trainer, and her jockey, highlighting the meticulous planning and dedication that goes into nurturing a winning horse.
Mise En Scene's triumph also underscores the strong bond between the horse and her support team. The trainer, jockey, and support staff work tirelessly to ensure her well-being and optimal performance. Their collective efforts have culminated in this remarkable victory, and they now eagerly anticipate the challenges and opportunities that lie ahead in her racing journey.
Looking forward, the team will prioritize Mise En Scene's recovery and well-being before charting out a strategic plan for her future races. Each race presents a fresh opportunity for her to showcase her talent, and the team is dedicated to maximising her potential and securing more victories for RacehorseClub.
Conclusion
Mise En Scene's victory at Saratoga is a testament to her talent and the unwavering support she receives from her trainer, jockey, and the RacehorseClub community. The win marks the beginning of a promising journey filled with opportunities for further success. As the filly continues to enthral racing enthusiasts, her triumph serves as a reminder of the thrill and joy that come from witnessing exceptional talent on the racetrack. With the support of her devoted team and adoring members, Mise En Scene is destined to leave her mark on the world of horse racing.