RacehorseClub Cheltenham Preview Night streaming on Facebook and YouTube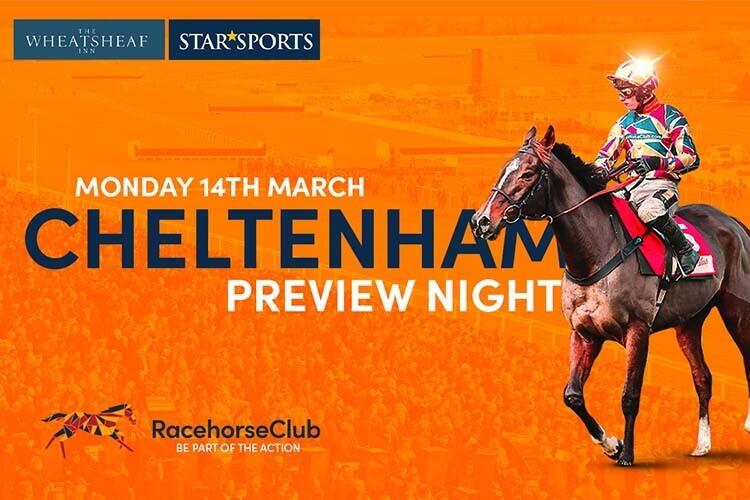 RacehorseClub is delighted to announce that our inaugural Cheltenham Preview Night will be live streamed on both Facebook and YouTube.
The event which takes place next Monday, 14th March 2022 at the Wheatsheaf Inn, Northleach starts at 7.30pm will be available to watch online due to high demand.
Links to each stream will be posted on RacehorseClub's social media pages next Monday afternoon as well as in the RacehorseClub members area of the website.
***The event is sold out and there will be no tickets available on the night.
Racing TV's Niall Hannity will be joined by a star-studded panel
Davy Russell
RacehorseClub ambassador and national hunt legend
Christian Williams
Trainer of RacehorseClub's cross-country race hope Potters Corner
Lisa O'Neill
Racing TV pundit and leading amateur jockey in Ireland
Sean Flanagan|
Leading national hunt jockey
Charlie Johnston
Joint trainer with his record-breaking father Mark Johnston
Flynn Goward
Star Sports Bookmakers representative giving betting offers throughout the evening
Tom Davies
Performing live after the preview
RacehorseClub's Freddy Tylicki
Our Club Manager has this to say; "RacehorseClub is thrilled with the panel we have lined up for our inaugural Cheltenham Festival Preview Night. The Wheatsheaf Inn, Northleach is a fantastic venue and I'm sure the preview will get everyone even more excited for the week ahead.
The plan is for Potters Corner to run in the cross-country race on the Wednesday. As we saw in December, he seems to love the cross-country course, so fingers crossed he'll go to the festival with a big chance and give RacehorseClub members a day to remember."
Micro shares in Potters Corner are still available
Cheer on your very own Cheltenham Festival runner by purchasing a Potters Corner micro share!