RacehorseClub win again - June Review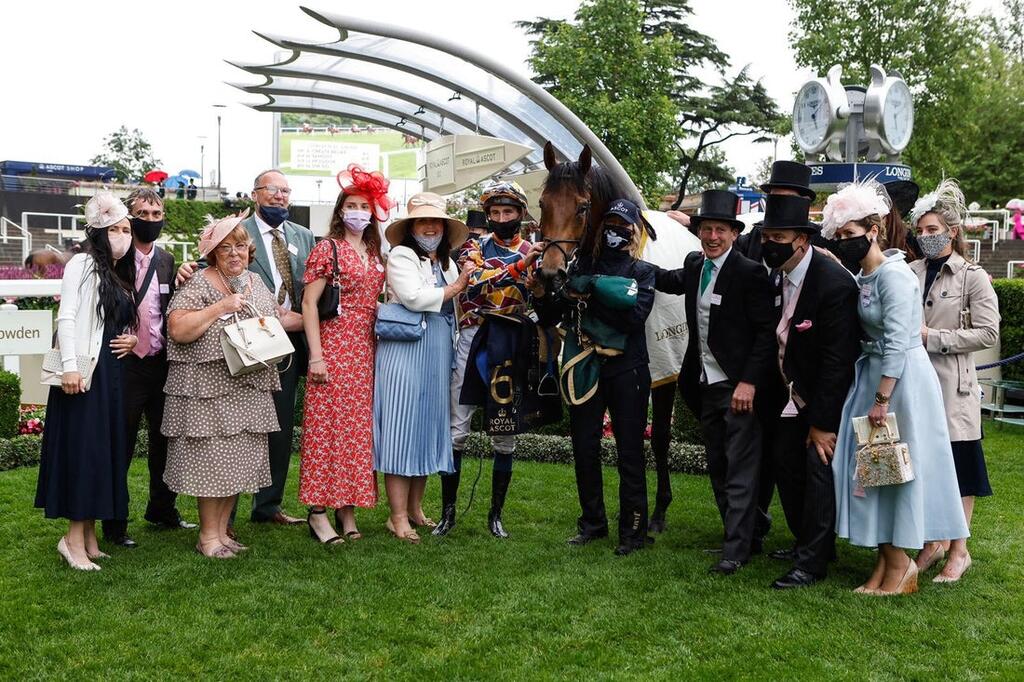 RacehorseClub win at Royal Ascot
RacehorseClub members have enjoyed another amazing month with Create Belief being the highlight destroying her opposition in the Sandingham Stakes at Royal Ascot.
She was one of the most impressive winners of the Royal meeting and group races are now firmly on the agenda. As a result of her five and a half-length success, she gained an official rating of 110, only one pound below the 1000 Guineas winner, Mother Earth. She will be back on a racecourse in a month or so and her end of season target will be the Queen Elizabeth II Stakes on British Champions Day back at Ascot on 16th October, a race worth £1.1 million.
Johnny Murtagh expects more from Create Belief
Johnny Murtagh has reported that Create Belief has come out of Royal Ascot in tremendous form and could not be happier with her. There are still shares remaining in Create Belief for only £59. She looks sure to take members onto the biggest stages for the remainder of the season.
Unbelievable experience for the Royal Ascot ballot winners
Owners ticket ballot winners enjoyed a day of a lifetime at Royal Ascot with Mark Debenham and Kerry Dumbril, having never been on a racecourse in their lives were straight into the winner's enclosure.
Mark said after the race "I've followed racing since a child, but I've never actually been on a racecourse before. To win the owners ticket ballot was amazing but to then come to Royal Ascot and be in the winner's enclosure is just a dream come true and a day I'll never forget."
John and Sheila Cooper were other ballot winners for Create Belief who said "What an amazing day, we can't thank RacehorseClub enough for giving us this opportunity and experience. It was also lovely to meet fellow members of RacehorseClub."
The Lir Jet runs well at Royal Ascot
The Lir Jet also ran at Royal Ascot two races before Create Belief in the Group One, Commonwealth Cup. He finished a very respectable 7th running on very strongly in ground too soft for him. He went to Newmarket eight days later finishing 6th in the Criterion Stakes. He probably returned to the racecourse too quick on this occasion but again ran with credit.
The Lir Jet is gelded
The decision was made after Newmarket to have The Lir Jet gelded. Both Michael Bell and Oisin Murphy felt the operation would benefit him both on and off the racecourse. He has come out of the operation well and will be back into full exercise very soon and the Lennox Stakes at Glorious Goodwood on 27th July a possibility.
Potters Corner in great form
Christian Williams reports Potters Corner to be in great form and is nearing the end of his summer holidays.
"Potters Corner is in great form and the summer break has done him the world of good. I'm going to give him another week or so out in the field before bringing him back into training.
I'm going to do a lot of slow conditioning work with him to get him going again and gradually step up his work. I really believe he's got a big race in him this season. Things didn't work out for him last season and he's still got relatively low miles on the clock.
I'm really excited to get him going and can't wait to see him back on a racecourse as I'm sure he's going to give his members plenty of fun this season."
After a second in the Grand National even Balkos Des Flos is fighting fit
Grand National runner-up Balko Des Flos is in great shape and will return to Henry De Bromhead's yard the last week in July.
Henry said "We're all really looking forward to having Balko back with us. He'll be aimed at all the Cheltenham cross country races before another crack at the Grand National. He's a real yard favourite."
Freddie Tylicki joins the team
Earlier in the month, RacehorseClub announced Freddy Tylicki would be joining the executive team.
Freddy, a former dual Group 1 winning Flat jockey, who was crowned Champion Apprentice in 2009 now forms part of Sky Sports Racing's regular presenting team.
Freddy Tylicki said: "I'm absolutely delighted to be joining RacehorseClub and feel honoured to have been given this great opportunity. I am wholly behind the club's ambitions and truly believe that it is going to be a great success.
"RacehorseClub gives anyone and everyone the chance of owning an affordable club share of a top-class racehorse in the UK and Ireland at the highest level with the assurance of enjoyment and great fun along the way.
"I'm really looking forward to getting started and meeting members to share my enthusiasm and knowledge."
Excited ballot winners to visit The Lir Jet and Ed Chamberlin at Michael Bell's yard
RacehorseClub members in The Lir Jet are visiting Michael Bell's yard on Thursday 8th July. Members will be able to get up close and personal with The Lir Jet and ask Michael Bell any questions they have.
RacehorseClub ambassador Ed Chamberlin will be at the stable visit to meet and greet members as well as Freddy Tylicki attending. After the stable visit, members will also be given a tour of the National Stud.
Be part of the action.