Remaining RacehorseClub Cheltenham Festival Preview Night tickets on sale to the public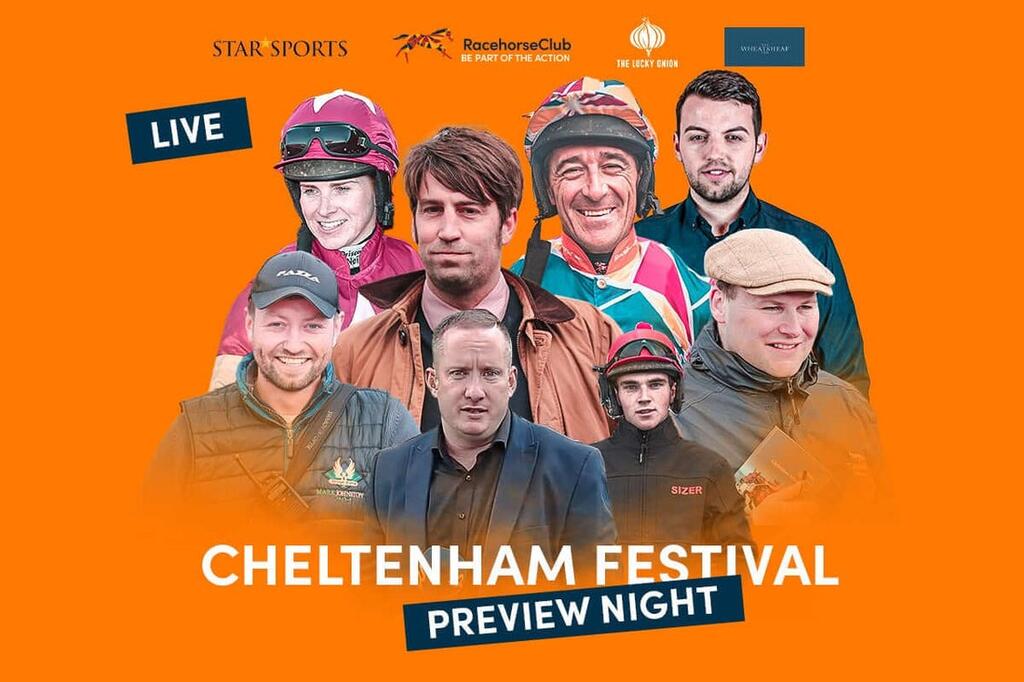 The remaining few tickets for the RacehorseClub Cheltenham Festival Preview Night are now on sale to the public.
The event takes place on Monday 14th March, the eve of the 2022 Cheltenham Festival.
The celebrity panel includes:
Niall Hannity
Racing TV presenter and host for the evening
Davy Russell
RacehorseClub ambassador and national hunt legend
Christian Williams
Trainer of RacehorseClub's cross-country race hope Potters Corner
Lisa O'Neill
Racing TV pundit and leading amateur jockey in Ireland
Charlie Johnston
Joint trainer with his record-breaking father Mark Johnston
Jonathan Burke
Leading national hunt jockey
Matt Hall
Auctioneer for Tattersalls will be the 'Master of Ceremonies'
Live entertainment
Angus Johnston will be performing live after the preview with a special performance from Irish trainer and singing legend, Ronnie O'Leary.
Venue:
Wheatsheaf Inn,
Northleach,
Cheltenham GL54 3EZ
Date /Time:
Monday 14th March 2022
6.30pm - 11.00pm
Tickets are £20 per person
RacehorseClub's Freddy Tylicki said; "RacehorseClub is thrilled with the panel we have lined up for our inaugural Cheltenham Festival Preview Night. The Wheatsheaf Inn, Northleach is a fantastic venue and I'm sure the preview will get everyone even more excited for the week ahead.
The plan is for Potters Corner to run in the cross-country race on the Wednesday. As we saw in December, he seems to love the cross-country course, so fingers crossed he'll go to the festival with a big chance and give RacehorseClub members a day to remember."
RacehorseClub ambassador Davy Russell said; "I'm delighted to be part of RacehorseClub's Cheltenham Festival Preview Night panel. I'm sure it'll be a great night and hopefully between us we can point the guests in the right direction of a few winners!"
Martin Chapman from Star Sports Bookmakers will be joining to give offers throughout the evening.
Please note:
Tickets are limited. Purchase ASAP to avoid disappointment.
Guests are advised to arrive from 6.30pm
Ticket confirmation will be emailed within 24 hours of the event
Tickets are non-refundable
Entry will not be permitted without ticket confirmation