The Lir Jet wins Grade 2 Franklin Simpson Stakes at Kentucky Downs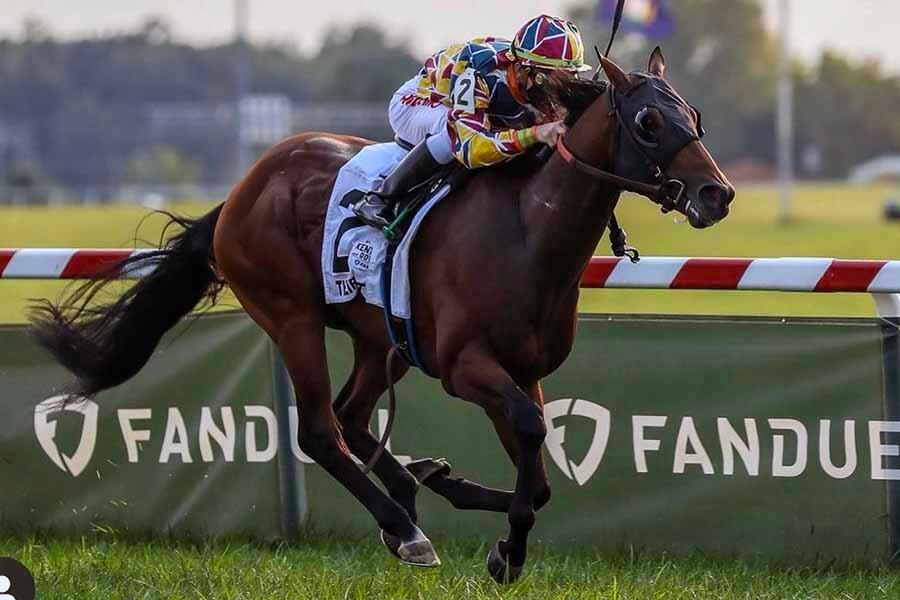 The Lir Jet storms home to win Franklin Simpson on Saturday
The Lir Jet having his first start since he was moved stateside to new trainer Brendan Walsh was given a superb ride by Tyler Gaffalione who never left the inside rail to forge clear in the closing stages to win by a very comfortable 1 and 3/4 lengths.
The Lir Jet has just arrived in the US
A highly competitive race on paper, The Lir Jet who only just flew to America on 24th August recorded his second Grade 2 win after triumph in the Norfolk Stakes at Royal Ascot last season when trained in Newmarket by Michael Bell.
Brendan Walsh now Training The Lir Jet
Brendan Walsh who has only had The Lir Jet in his care for just over a couple of weeks was confident of a big run when speaking to RacehorseClub members of The Lir Jet on Thursday through a live Zoom call.
He said after the race: "I haven't had The Lir Jet a very long time, but he came to me in very good shape from Michael Bell which made my job very easy. We just took him over when he got off the plane, and here we are.
I thought he was very impressive. It looked like he was always in control and got a great ride. It worked out great. I'm delighted for Qatar Racing who have now won this race for the third consecutive year, and also their partners in the horse, RacehorseClub and their members.
RacehorseClub has had an amazing start over in the U.K. and Ireland. Now Grade 2, Grade 3 and Royal Ascot winners not mentioning a runner up in the Grand National all within six months of launching.
It's great to be part of their team training this wonderful horse. We'll see how he comes out of the race and make a plan going forwards."
Tyler Gaffalione riding The Lir Jet
Tyler Gaffalione who took the ride said post race: "He broke sharp, grabbed a hold of the bit running up the hill. Even going down the hill he grabbed it a little more. I had to wait a little bit longer. He was taking me the whole way. As soon as a spot opened up he accelerated and finished the job."
RacehorseClub members celebrate another winning racehorse!
A truly magnificent performance and huge congratulations go to RacehorseClub members of The Lir Jet across the globe.
Watch The Lir Jet's result and race replay from the Franklin Simpson Stakes.
There are still shares remaining in The Lir Jet which can be purchased here.