UK's best horse racing club confirms Mise En Scene for the Guineas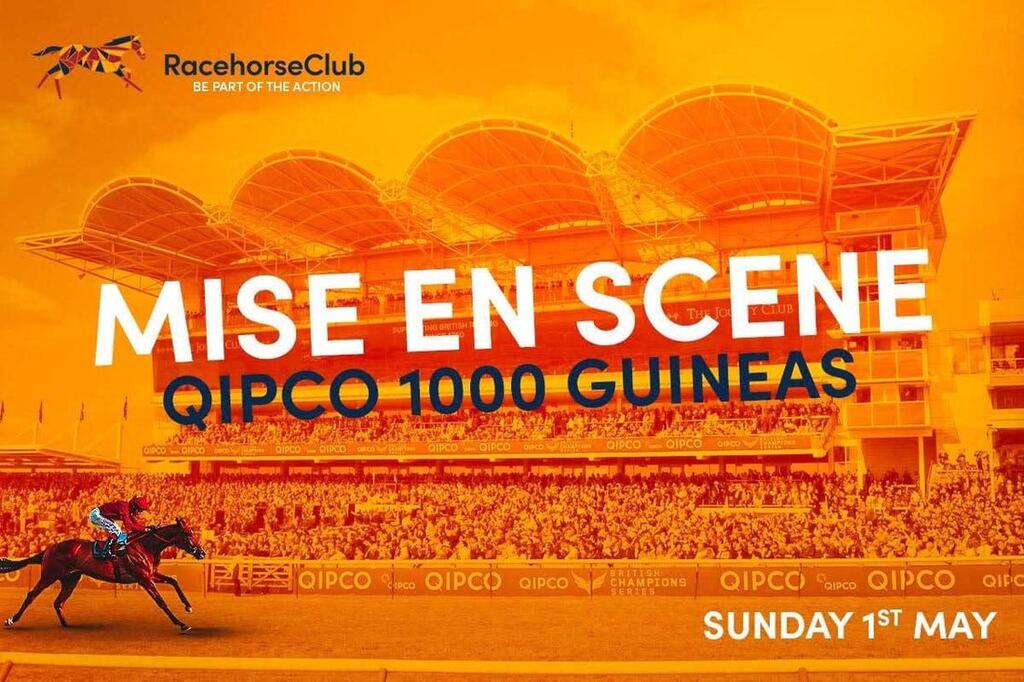 Mise En Scene confirmed for QIPCO 1000 Guineas
Mise En Scene remains in the QIPCO 1000 Guineas after today's confirmation of entry stage. 16 fillies remain in the race for this season's running of the famous classic race. The UK's best horse racing club is proud to be taking part with a horse that has every chance. The second classic of the season will feature a maximum of 16 fillies and will be a thrilling charge down Newmarket's Rowley Mile racecourse. A magnificent straight mile with horses chasing half a million pounds in prize money.
RacehorseClub, the best horse racing club around
If you want to be there in true style as an official owner for the day, then don't miss the chance to enter the RacehorseClub ballot to win an Owners Badge. The UK's best horse racing club gives the opportunity to be in the Parade Ring alongside racing royalty before the race to hear pre race instructions from trainer James Ferguson, just one of our world class trainers, to race day jockey Cieren Fallon, the sublimely talented son of Kieran, six time champion jockey. Cieren knows the filly extremely well having finished fourth on her in the bet365 Fillies' Mile (Group 1) over the same course and distance as Sunday's race back in October. Entry is open to all shareholders of Mise En Scene and you can apply to enter the ballot the moment you buy your share by writing to Laurie at info@racehorseclub.com. We sincerely hope it will also get you into the winners enclosure after the race too where your friends and family can envy your television appearance being streamed around the world.
Reasons to be cheerful
See below for James Ferguson's positive comments ahead of the race, he tells us Mise En Scene is in superb condition and points out she is running on a course she knows well and with a jockey who knows her. It is a fantastic opportunity for her to show her credentials and provide optimism for the season ahead with more classics and Group 1 races to come. That promise of top quality horses running in the biggest races at some of our most famous courses is what sets our horse racing club apart.
It is an ill wind that blows no good they say, and it is no joy to report that the ante post favourite, Inspiral, had to be withdrawn yesterday. Our sympathies are with her trainers, John and Thady Gosden. But it undoubtedly improves the prospects of Mise En Scene.
Declarations for the QIPCO 1000 Guineas are due by 10.00 am on Friday.
Mise En Scene's trainer James Ferguson said this morning;
"Mise En Scene has been confirmed for the QIPCO 1000 Guineas. She's got course form which is always beneficial when running up the Rowley Mile.
I'm really looking forward to seeing her run. She's in great shape and is very happy in herself, fingers crossed we can get her there in one piece.
She came out of her racecourse gallop at Chelmsford in good order and hopefully she can continue her great form this week and fingers crossed she can run a big race.
Obviously with her pedigree, she is related to Speciosa who won the 1000 Guineas which can only be a good thing. We must bear in mind that she is a filly who will want further in future but I'm happy to start her season off in the Guineas and she's going there in top condition."
RacehorseClub Manager Freddy Tylicki said;
"A hugely exciting week ahead for RacehorseClub as Mise En Scene is set to line up in the QIPCO 1000 Guineas on Sunday. To have a runner in a race as famous and prestigious as this is a huge thrill and a once in a lifetime opportunity for everyone involved.
Mise En Scene has course and distance form in the book when finishing a close fourth in the Fillies' Mile last autumn when a shade unlucky. Cieren Fallon will once again take the ride on Sunday who knows the filly inside out both on and off the racecourse.
I'm very much looking forward to seeing as many members as possible at Newmarket on Sunday to cheer home Mise En Scene on what is sure to be a day to remember.
James Ferguson is thrilled with her preparation going into the race and she looks to have a very competitive chance judging by those left in the race at this stage. Fingers crossed she has a good week of preparation before taking on one of the most famous races in the world."
Join Mise En Scene at Newmarket
RacehorseClub encourages anyone who would like to attend the race on Sunday to enter the owners ticket ballot by emailing info@racehorseclub.com from today. The winners of the ballot will be announced at 4pm on Friday after declarations have been made.
Shares are still available in Mise En Scene. Don't miss out on this opportunity of a lifetime!