Winning an Owners and Trainers Badge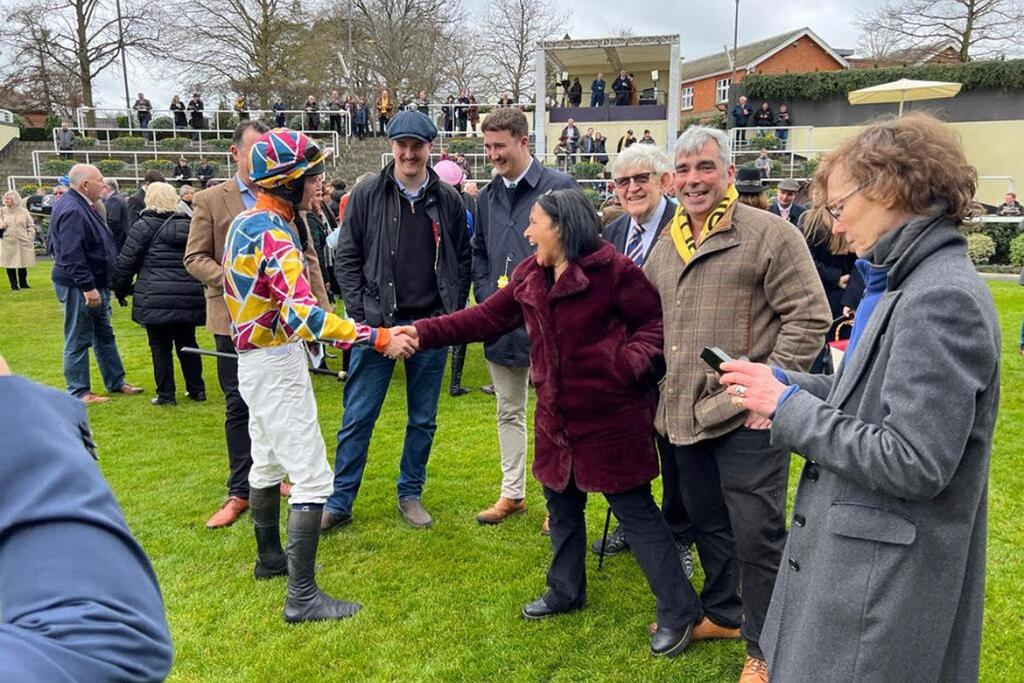 Welcome to the exhilarating world of thoroughbred horse racing where dreams come alive and champions are born. At RaceHorseClub.com, we're thrilled to present to you the extraordinary experience of winning an owners badge – an exclusive pass that opens the doors to a day of pure racing ecstasy. Join us as we take you through the thrilling sequence of events that await you as an esteemed owner at a top-class racing event.
Owners Badges are an important element of being a member. Every time we enter a horse into a race, members are invited to apply for an Owners Badge. Where possible we give a badge to every applicant but numbers are limited. When necessary we hold a ballot to select winners. Win a badge and you can look forward to the genuine experience of being an owner for a day at the races. As you can see below, it is a magnificent day that starts on arrival and lasts the entire day... building memories that last forever.



What to expect on Race Day ...
Arrive at the Owners and Trainers Car Park
The journey begins as you drive into the dedicated Owners and Trainers Car Park, knowing that you're about to embark on a day like no other. Feel the excitement build as you anticipate the incredible moments that lie ahead.
Collect Your Badge at the Owners and Trainers Entrance
Step into a world of privilege as you collect your prestigious owners badge at the Owners and Trainers Entrance. This badge is your passport to an unforgettable day, granting you access to areas reserved only for those who truly appreciate the art of racing.
Enjoy a Sumptuous Lunch
Indulge in a delectable lunch that matches the elegance of the occasion. Savor gourmet delights while mingling with fellow owners, trainers, and racing enthusiasts, sharing stories and building connections that might just last a lifetime.
Witness Your Horse's Preparation in the Pre-Parade Ring
Feel your heart race as you make your way to the Pre-Parade Ring, where you'll watch your prized horse being saddled by its dedicated trainer. This intimate moment allows you to witness firsthand the dedication and meticulous attention to detail that goes into preparing a horse for the ultimate test of speed and stamina.
Join the Parade Ring for Strategy Talks
Step into the Parade Ring alongside your esteemed jockey and trainer. Engage in exhilarating discussions about race tactics, strategy, and the horse's readiness. This is where the anticipation reaches its peak – the moments before your horse enters the racecourse.
Experience the Race from the Owners and Trainers Viewing Area
As the gates swing open and the thunderous sound of hooves fills the air, make your way to the Owners and Trainers Viewing Area. From this vantage point, you'll have a breathtaking view of the entire race, feeling the ground tremble beneath you as your horse surges forward, driven by the passion of the jockey and the expertise of the trainer.
Celebrate Victory in the Winner's Enclosure
As your horse triumphantly crosses the finish line, the cheers of victory resonate around you. Join the jubilant procession to the Winner's/Unsaddling Enclosure, where you'll witness the unsaddling of your champion. Embrace the thrill of the moment as the jockey and trainer share their insights and celebrate with you. Every race comes with the possibility of you stepping up to receive the trophy as the owner... the photo opportunity of a lifetime. Our horses compete in major events at the best courses and regularly feature on ITV and Sky, so your wider family and friends might well get to share your moment.
Unwind at the Owners and Trainers Bar
After a day filled with heart-pounding action, bask in the camaraderie of fellow owners and trainers at the exclusive Owners and Trainers Bar. Share stories of triumphs and near-misses while raising a toast to the spirit of competition and the power of equine excellence.



How our member, Dale Churms, summed up his experience with us;
"I've been involved with RacehorseClub for about one year now, and I highly recommend them to anyone interested in racehorses.I recently applied for the free county stand badge at my local course and was over the moon when I was selected. Not only did the club have a badge for me but my father too.
It was amazing of them to let me share the experience with my father! They went even further and got me involved with the presentation for the winning team and selecting the best turned-out horse! A day I will never forget and forever be grateful to RacehorseClub!"



Be in it to win it!
At RacehorseClub.com, we understand that being an owner is more than just a title - it's a journey of passion, dedication, and sheer exhilaration. Winning an owners badge grants you access to an unparalleled experience that is etched in memories forever. Join us as we celebrate the magic of horse racing for your chance to grab Owners and Trainers Badges. Every owner is a part of our story.

How to apply for Owners and Trainers Badges
Members can book their place in the winner's circle today at RacehorseClub.com and be part of a legacy that transcends time. Your dream of winning an owners badge starts with an email to info@racehorseclub.com. You can send in your application as soon as your horse is entered into a race.